A Word From The Founder of The King's School
Rev. Bill Davidson M.Div., ThD.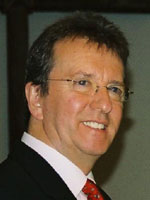 When people look back over the years they often say "We would have never dreamed..." But that wouldn't be true with us as we founded The King's School. We began with a dream and we're not a bit surprised that God came through. It's typical of Him!
That's not to say that our beginnings were not humble! My own two children met in the basement of our house for one year. Then, in 1983, we opened up with around twenty students and a couple of staff members.
My attempts to get other churches to join with us in creating a Christian School were not successful. At one time, not long after The King's School began, there were all of eleven Christian Schools between Lake Luzerne and Hudson Falls. Now The King's School stands alone as 'the area Christian School'. At various times between twenty and thirty area churches have sent students to King's. Together with the uniting of area pastors in deeper relationship, The King's School has contributed profoundly to the unifying of the Body of Christ.
Because I know what went into the foundation of this ministry, I am confident in the future of King's. Paul said in 1st Corinthians 3:12-15 "If any man builds on this foundation using gold, silver, costly stones, wood, hay or straw, his work will be shown for what it is, because the Day will bring it to light. It will be revealed with fire, and the fire will test the quality of each man's work. If what he has built survives, he will receive his reward. If it is burned up, he will suffer loss; he himself will be saved, but only as one escaping through the flames."
There have been many days of testing by fire for King's and here we are, twenty five years on, by God's grace, survivors. But not just survivors: visionary followers of the One who called us into existence by His Spirit and for His glory. And that's what it's all about; training and encouraging generations of young people to give glory to The King.
Yours for The King!
Dr. Bill Davidson
Founder