Nanette Levons: Creative Expression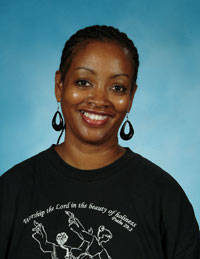 EDUCATIONAL BACKGROUND

Eagles International Training Institute- for Dance Ministries

Worship Arts Conferences
Shachah International - tambourine, Flags, Streamers & Dance
Dancing For Him

Worship Arts Conference Toronto

Worship Arts Conference Pinecrest
TEACHING EXPERIENCE

Leader of Dance Ministry at C.O.T.N
WHY I AM TEACHING AT THE KINGS SCHOOL

I have allways enjoyed working with children. I especially enjoy teaching about worshiping the Lord and how we can express that with our bodies. The children are so creative and often uninhibited so I learn so much from them as well. I enjoy being able to help them connect with the Lord through movement. I believe it is important for each of us to know that we can connect with the Lord personaly & uniiquely through who we are and that it is important to Him as well.
FAVORITE BIBLE VERSE

Psalm 27: One thing I ask of the LORD this is what I seek:
that I may dwell in the house of the LORD all the days of my life,
to gaze upon the beauty of the LORD and to seek him in his temple.
MY 3 CHILDREN GRADUATED FROM THE KINGS SCHOOL